Higher Education: Promote Enrollment when Your Fundamental Value Proposition Is in Question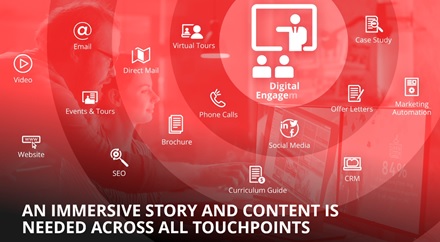 How can you promote enrollment when COVID-19 is causing students and families to question the fundamental value proposition of a college degree or a university experience?
How well you are able to promote enrollment and recruit students to your institution is not just a matter of chance. You can't rely on luck or hope. Changing in your approach and making best use of the most effective tactics can tip the balance in your favor. Just because times are bad doesn't mean you have to accept bad results.
Strategic thinking to promote enrollment
Rethink and retool your recruiting communications. Instead of pursuing of a variety of tactics, start with an overall strategy. You will need to redefine your value proposition, position the experience, and clearly lay out the benefits of what your institution offers. And more than that. A brand is a relationship and relationships are built on emotion. You need to be able to tell an immersive and engaging story that appeals to emotions and that is backed by facts. If you haven't refreshed your brand strategy and the overarching strategy of your enrollment program recently, now is the time to do so. Your pre-COVID-19 status quo will not work now.
Consistent and immersive story
Before you start creating communications, you need to build your story in a way that can work across all tactics, content types, and outreach methods. Too often institutions create each piece of communication in isolation. The result is a fragmented brand and disorganized story that does not make best use of each tactic.
Orchestrating online and real world communications
Mailed brochures and on-campus tours are still part of the mix. How effective they will be in a post-COVID world remains to be seen. Whatever the situation in the coming months building digital engagement will protect your ability to promote enrollment. Even if everything returns to "normal," digital enrollment promotion needs to become a centerpiece of any higher education marketing program in the future. A fully dimensional program to promote enrollment would include:
Virtual tours
Email
Video
Success stories and student profiles
Direct mail
Phone calls/tests
Offer letters
CRM
Curriculum guides
SEO
Web sites
Social media
Influencers
Brochures
Marketing automation
Content and engagement portal
Webinars
E-meetings
The challenge to promote enrollment that universities, colleges, and other higher education institutions face is daunting. Yet achieving better than expected and higher than average results is possible for marketers who build a solid strategy, tell a consistent and immersive story, and orchestrate coordinated communications across all media—especially digital media.